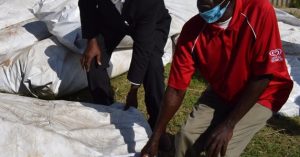 Homa Bay County in collaboration with the Swedish Government has acquired fishpond liners worth Sh2.5 million to support local farmers in the region. Through Agricultural Sector Development Support Programme (ASDP), the liners were acquired to boost fish production in ponds, benefiting a total of 18 fish farmers in the county.
Speaking to KNA, the County Executive Committee Member (CECM) for Agriculture, Livestock and Fisheries, Aguko Juma, explained that the government is keen on alternative methods of fish production that will relieve the existing pressure on Lake Victoria.
"The quantity of fish within the lake has reduced immensely and this is why we are doing our best to encourage more fish farmers by providing reliable alternatives that will reduce the dependence on the lake," Aguko explained.
He further said that the department is also working with other Non-Governmental Organizations such as the International Fund for Agricultural Development (IFAD) to support local farmers venturing into aquaculture business by providing both technical and financial support though the ASDSP.
The CECM said the 18 farmers who benefited from the pond liners had initially applied for the same through the department after constructing their own ponds.
"The County Government will acquire fish fingerlings for the farmers who received the pond liners today. They will also get support from our extension services officers throughout the process," he assured.
Aguko reiterated that the County Government is encouraging more farmers to venture into aquaculture in future as a way of increasing food production.
By Omar Zabbibah